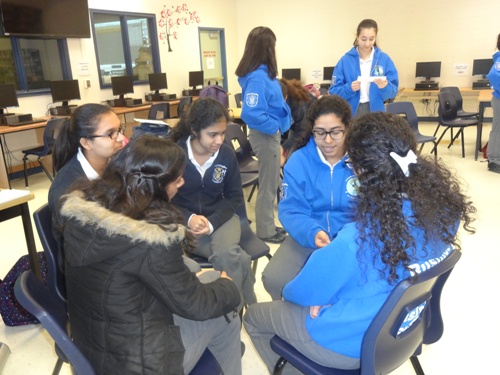 All of our programs are fun, highly interactive and cater to various different learning styles. We incorporate role play, case scenarios, video clips, inquiry-based learning, art-based approaches, kinesthetic activities and much more.
Unless otherwise stated, the recommended workshop length is 1.5 to 2 hours with a maximum group size of 25 to 30 students. Our programming is most appropriate for young people, grades 7 to 12 (we tailor content based on developmental stage). If you are interested in programming for children or young adults outside of this age range, please contact us.
Formats and topics can be combined and customized based on the unique needs of your school/organization and students.
Social Emotional Learning & Empathy Workshops
Mental Health Peer Leader Training/Workshops
Leadership Workshops
Social Justice Workshop
Retreats
Educator Training
Specialist High Skills Major Certifications
Program Costs
---
Social Emotional Learning & Empathy Workshops
Understanding Emotions
Students learn vocabulary related to emotions to improve their emotional expression and communication and develop an understanding of how emotions can build over time and develop positive coping strategies. This workshop is enhanced by pairing it with workshops on perspective taking and/ or communication for empathy.
Self-Identity & Self Esteem
How people understand themselves contributes to how they intervene to help others in their school and greater community. This workshop involves coaching young people to view themselves as people who take positive actions, through a positive sense of self-esteem and self-confidence.
Perspective Taking
Young people learn the skills necessary to make taking another's perspective second nature in this workshop. It builds the ability of a young person to reflect upon their own experience and relate this to another's situation, building the capacity for empathy and positive actions. To deepen the impact of this workshop even further, it pairs well with the Communication for Empathy workshop.
Connectedness & Personal Responsibility
Through various forms of participatory exercises, this workshop involves demonstrating how the world is our community, and how each of us are deeply connected to one another.
Promoting Inclusion
One of the largest barriers to taking positive action is reserving this for only those people that we feel are similar to us. This workshop helps young people understand their own areas of bias, discusses examples of reaching out to "outsiders", and creating positive attitudes based upon new understanding of ourselves and others. This workshop contains higher-level concepts, and thus is recommended only after at least another workshop has been facilitated with the group (e.g. Self-Identity or Perspective Taking are recommended).
Assertiveness & Positive Decision Making
Youth learn about normal human inclinations that often act as a barrier for deciding to help others. In gaining an appreciation for these tendencies, and rehearsing a new model of decision making, young people gain confidence in the skills they need to intervene in positive ways. This workshop pairs well with Perspective Taking.
Communicating for Empathy
This component enables young people to learn and actively practice effective communication skills that promote understanding and the development of empathy. This workshop pairs well with Perspective Taking.
Planning for the Positive
This workshop focuses on application of knowledge for future action. Participants will develop insight on how they personally want to create more positive interactions with others, learn techniques for effective goal setting and networking for success.
---
Mental Health Workshops
Peer Leader Training: 
An increased understanding of common mental health challenges, their myths and facts, as well as signs and symptoms
Understanding the relationship between positive mental health and the prevention of suicide and self-harm
Students gain practical skills they can utilize to reach out to peers experiencing mental health challenges, as well as an awareness of how and when to reach out to adult allies
Learning the fundamentals of emotions and positive coping strategies
Young people who are ready and willing to intervene in their classrooms, online spaces, social circles and beyond
Optional: Students can receive certificate upon successful completion
Recommended length for training: Approximately six hours which can be split across multiple modules or completed in one full day.
Coping Skills Sessions:
Teaches coping skills to students to better cope with anxiety symptomatology and stress.
Retreats:
Incorporates mental health, well-being and empathetic communication into a retreat setting
Parent Workshops:
Helps empower parents with information on what to watch for around mental health concerns, and strategies to support their teens.
Holistic School Approach:
Looking for a tailored approach that takes into account your school's unique strengths and challenges, deepens your understanding of issues contributing to school climate, and proactively prioritizes student and staff well-being? Get in touch with us today.
---
Leadership Workshops
Leadership Foundations
Students develop an understanding of positive leadership characteristics, leadership and conflict styles, and how they can grow their leadership skills within their school and greater community.
Connecting Leadership Strengths with Leadership Action
Recognizing the unique strengths and talents that each student possesses, and the collective leadership capacity of the group
Creating intentional connections between strengths with causes students are passionate about
Setting specific goals for leadership action and identifying allies, resources, and opportunities for collaboration in their school and community network to help achieve these goals.
Problem Solving for Student Leaders
Addressing barriers to leadership by exploring our own assumptions and doubts as leaders and practical skills to address them and move forward.
Self-Care for Student Leaders
Student leaders learn practical skills to take care of themselves so they can take care of their school communities.
Leadership Team Communication Tune-Up
Sometimes assumptions and "the usual way of doing things" creates ruts in leadership teams.
Students will learn and practice skills they can use to optimize their team dynamics.
Communication for success (developing communication for understanding skills)
Leaving a Legacy
For advanced student leaders, an outcome oriented session on making your time in leadership roles count and creating a specific and meaningful plan of action.
---
Social Justice Workshop
Through an anti-oppressive lens, students delve into the differences between charitable and social justice approaches to poverty reduction. Through a tailored and innovative exercise, students develop a clear understanding of how their choices and lives are inter-dependent with marginalized communities and the human family globally.
This workshop pairs well with the Planning for the Positive workshop listed above.
---
Retreats
Common Compass programming can provide a fun, reflective opportunity for students in a leadership capacity or particular point in the school year (e.g. starting a particular grade, graduation, etc.). Two to three of the above workshops can be combined for a condensed day or weekend-long experience, highlighting the goals of a particular school or board. This format also works well if time throughout the school year is difficult to find, and schools want to address several topics in a condensed or one-time manner.
Ideal retreat group size is a classroom size (e.g. 25 to 30 students), although larger groups may be accommodated with additional facilitators.
---
Educator Training
Six hours of training which can be delivered in one full day or several shorter modules. Shorter, more introductory sessions are also available. Recommended for up to 30 educators per session.
The relationship between social emotional learning and academic achievement.
Understanding the critical elements of the Common Compass SELF-OTHERS-SKILLS model. Some key elements include:

Understanding the role of positive student self-identity
How to help students understand emotions
Creating a sense of safety for students when talking about tough issues

Fundamentals for building empathy
Understanding common barriers to pro-social behaviour
Empathetic communication. Using it. Teaching it.
Understanding some key mental health challenges and how they can present in the classroom; positive coping mechanisms and identifying flags for when students require further support
---
Specialist High Skills Major Certification Programming
Business (fits management/ leadership requirements- covers effective communication, team dynamics, leadership styles, ethics and corporate social responsibility)
Non Profit (fits ethical decisions, management/ leadership and fundraising requirements). Also includes a strong focus on social justice and anti-oppression framework.
Health & Wellness (fits ethical considerations, group dynamics and leadership requirements).
All SHSM programming:
is tailored to the stream area, with field-specific content and case scenarios.
speaks to various learning styles by incorporating activities such as role play, arts-based activities, team presentations, inquiry/student-directed exercises and much more.
includes final assessment and certificates for all participating students
Contact us for a collaborative conversation about your goals and for more information on length and format.
---
Program Costs
Although Common Compass is a non-profit organization, we do charge user fees to school boards/schools to cover costs and to ensure we can sustain our work. Costs to school boards/schools vary according to:
Number of students participating
Number of programs you wish to book
Location(s) of program(s)
Length of program(s) booked
Which program(s) are booked
Common Compass provides tailored service estimates for each school board/school/youth organization we work with based on this information. Contact us today for a collaborative conversation.